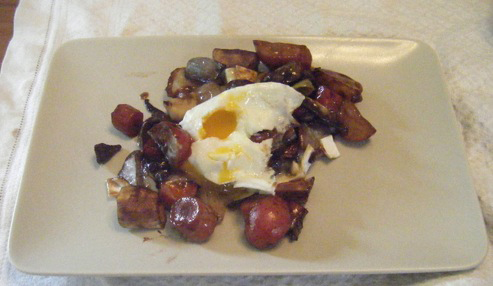 i woke this morning to an IM from the very talented Allie (see
riley catering anxiety
) telling me about her recipe for roasted vegetables with camembert and poached egg. so of course i had to make a trip to the grocery store. 
i tend to like root vegetables more than squashes and such so i used red potatoes, crimini mushrooms, onions, scallions, carrots, parsnips, and garlic, with a bouquet garni of fresh herbs from my garden. my only real change from her version was to use a lemon oil i had made and a flavored balsamic vinegar i had done as well.
i roasted the vegetables (dicing them peasant style) at 450 deg F for 30 minutes pouring the oil and vinegar on at the start in generous quantities and tossing to coat, and used half a wheel of camembert (2oz or 50-ish mg) cubed when it went back into the oven to melt after roasting. meanwhile poached an egg for each serving (in a ziplock bag, a new trick i read about) which went on top. made enough for 2.
i liked the fact the cheese was not overpowering in this recipe, but added to the overall texture and flavor of everything